Making a smoothie from Daily Harvest is simple and only takes a few minutes. First, choose your favorite fruits and vegetables. Then, add them to the blender with some ice and water.

Blend until smooth and enjoy! There are endless possibilities when it comes to making smoothies with Daily Harvest. You can use any combination of fruits and vegetables that you like.

I usually start with a base of spinach or kale, then add in some berries, bananas, and other greens. For a little extra flavor, I sometimes add in a scoop of protein powder or nut butter. And if I'm feeling really adventurous, I'll throw in some spirulina or chia seeds.

The options are endless!
Choose your smoothie flavor
Daily Harvest offers a variety of fruits, vegetables, and superfoods to choose from
Add the desired ingredients to your blender
Be sure to include the liquid base (water, milk, or yogurt) and any add-ins (chia seeds, protein powder, etc
) that you want
Blend until smooth
Start on a low setting and gradually increase the speed until everything is combined and creamy
Pour into a glass and enjoy! If you have extra time, garnish with fresh fruit or herbs before drinking
How to Make: Daily Harvest Smoothies
How Do I Make Daily Harvest Smoothies?
Assuming you would like a step-by-step guide on how to make a Daily Harvest smoothie: 1) Choose your smoothie. Daily Harvest has a wide range of both fruit and vegetable based smoothies, so you can pick whichever suits your fancy.

If you need help deciding, they also have flavor profiles on their website to give you an idea of what each smoothie tastes like. 2) Gather your ingredients. Once you've decided which smoothie you'd like, make sure you have all the necessary ingredients.

All of the ingredients for Daily Harvest's smoothies come frozen and pre-portioned, so all you have to do is measure out the right amount for your blender. You'll also need milk (or another dairy alternative) and a liquid sweetener if desired.
Add all of your ingredients into a blender and blend until desired consistency is reached. Pour into a glass and enjoy immediately!
What Liquid Do You Use for Daily Harvest Smoothies?
When it comes to making Daily Harvest smoothies, the type of liquid you use is completely up to you! Whether you prefer milk, water, nut milk, or even juice, all options will work just fine. Simply add your desired liquid to the blender along with your frozen Daily Harvest cups and blend until smooth.

If you find that your smoothie is too thick, add a little more liquid until you reach your desired consistency. Enjoy!
Do You Have to Blend Daily Harvest Smoothies?
No, you don't have to blend Daily Harvest smoothies. You can drink them as is or add water, milk, or ice to create a thicker consistency. If you do choose to blend your smoothie, we recommend using a high-powered blender like a Vitamix for best results.
How Many Harvest Smoothies a Day?
Assuming you are referring to a green smoothie made with leafy greens and fruits, one per day is a good starting point. If you have never had a green smoothie before, start by adding ½ cup of spinach or kale to your favorite fruit smoothie recipe. Once you're used to the taste, increase the amount of greens until you're drinking mostly greens with only a little bit of fruit for sweetness.

As for how many smoothies you should drink in total each day, that depends on your calorie needs and diet goals. If you're trying to lose weight, aim for 3-4 small meals or snacks throughout the day instead of 2-3 large ones. This will help keep your metabolism going and prevent you from getting too hungry between meals.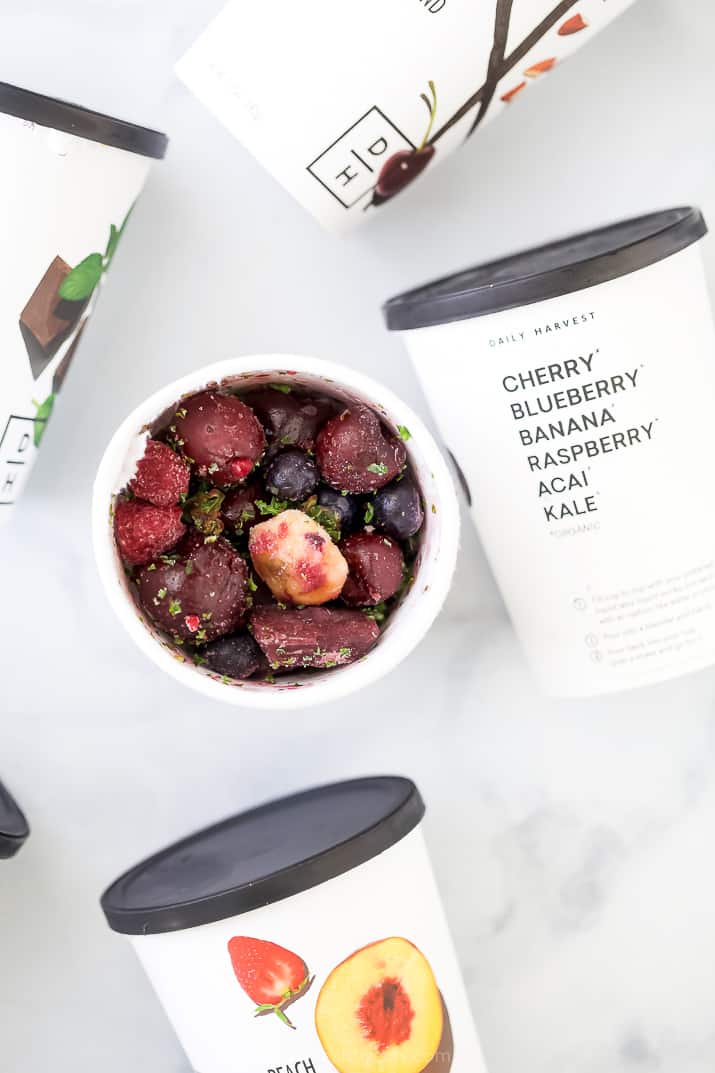 Credit: www.joyfulhealthyeats.com
How to Make Daily Harvest Bowls
Harvest bowls are a great way to get your daily dose of fruits and vegetables. They are easy to make and can be customized to your liking. Here is how to make a daily harvest bowl:

1. Start with a base of greens. I like to use organic baby spinach or spring mix. 2. Add in some chopped up fruit.

I usually go for grapes, apples, or pears. But feel free to use whatever fruit you have on hand or that sounds good to you. 3. For the veggies, I like to add in diced tomatoes, cucumbers, and carrots.

Again, use whatever veggies you have on hand or that sound good to you. 4. Top it all off with some nuts or seeds for a little crunch and extra nutrition.
Conclusion
Assuming you would like a summary of the blog post titled "How To Make Daily Harvest Smoothies": Daily Harvest is a company that delivers pre-portioned, frozen ingredients for smoothies straight to your door. All you have to do is add liquid (milk, water, etc.), blend, and enjoy!

The author of the blog post tried out the service and provides a step-by-step guide on how to make one of their smoothies. First, you choose your desired smoothie from their website and add it to your cart. Then, you checkout and wait for your delivery.

Once it arrives, all you have to do is follow the instructions on the packaging – add liquid, blend, and voila! You've got yourself a delicious and healthy smoothie in no time at all.
Was this article helpful?